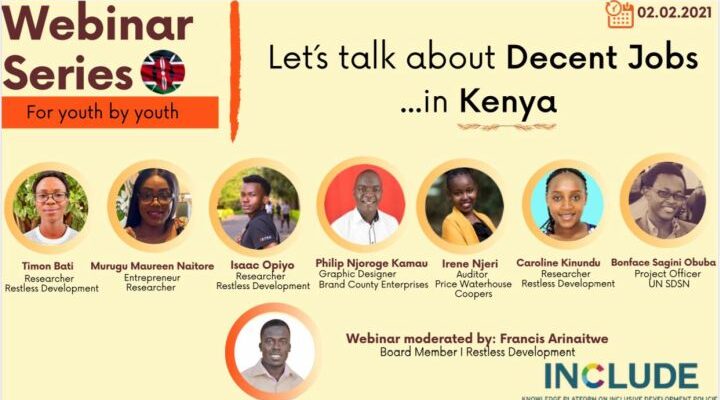 On the 2nd of February, participants from Kenya continued our discussion on 'What and when is a job decent.' Upon dissecting the official definition of ILO, they defined a decent job as one that provides a fair income, personal and professional development, social protection, a healthy work environment, and job security. In the same vein as the previous webinars, youth from Kenya also challenged the perception that decency only lies in 'white collar' jobs. However, they did call into question the extent to which the informal sector can provide decent jobs for youth. They highlighted the scarcity of jobs in Kenya and the difficulties that come with finding a job in the first place, let alone a decent one. According to Kenyan youth, it is imperative to address the existing gender disparities when observing decent jobs in Kenya. To create decent jobs for large segments of the labor force, participants suggested a number of solutions: raising awareness amongst youth in regards to the notion of decent jobs, putting in place a framework that monitors employers, eradicating the gender pay gap and improving social protection for those who work in the informal sector.
The webinar was organized around the discussion of four questions:
1. How does the official ILO definition of a decent job resonate with youth in Kenya?
Whilst the definition of a decent job is desirable for Kenyan youth, it is becoming increasingly difficult to actualise. The idea of decent jobs is a contemporary one to youth in Kenya as they continue to battle with unemployment and underemployment. Thus, the participants emphasised the importance of first tackling the issue of unemployment amongst youth before coming to the discourse concerning decent jobs. Despite what is defined by the ILO as a decent job, many youth in Kenya undertake jobs that only provide them with enough income to survive. The scarcity of jobs has coerced young people into taking any job opportunity that they come across, even if it is not decent. The participants also pointed out the lack of awareness amongst youth of what a decent job is and how this may be another contributing factor.
2. Is a decent job only possible in the formal sector?
Although the previous webinars implied that there is a certain level of decency in the informal sector, the Kenyan participants do not convey the same experience. Even though there is a certain level of decency that can be attained in the formal sector, the situation is still dire. This is further exacerbated in the informal sector as it is almost impossible to find a decent job. The informal sector is characterised by lack of social protection, low income and insufficient growth opportunities. The participants advocated for the formal sector as there is a higher chance of finding a job that is somewhat decent. Simply put, informality is a trap.
3. Is 'decent job' different for men and women?
In Kenya, there is an overriding issue concerning the gender pay gap in the workspace. Not only are women underpaid in both the formal and informal sector, they're also subject to unfounded stereotypes. They are deprived of maternity leave rights and often find themselves in precarious situations. They are less likely to come across formal work arrangements and are therefore thrust into the informal sector in adolescence. Thus, they are more likely to lack decent working conditions, adequate social protection, and voice through effective representation by the government or trade unions. Against this backdrop, workforce development programs and education must be reassessed across Kenya. To ensure an equitable and inclusive working environment, the participants highlighted the important role that education plays. Addressing the gender gap within education is essential for the eradication of the gender pay gap in the workplace. Finally, since women are concentrated in the informal sector, efforts to make such spheres more decent is required.
4. How has COVID-19 affected a decent job narrative?
For the Kenyan participants, COVID-19 demonstrated a preexisting deficit of social protection in both the formal and informal sector. However, this is deep and disproportionate in the informal sector. Since there is a strong presence of young people in this sector, they are significantly hindered. Even in the formal sector, a lot of youth found themselves leaving their decent jobs to take unsatisfactory positions in order to survive. For example, the participants spoke of the teachers in Kenya who found themselves taking drastic measures such as selling food on the side of the road to make a living. This has taken a toll not only on young people's financial status but also on their mental wellbeing. Given the current climate, it is pivotal that we enhance decent jobs in all sectors to safeguard the livelihood of young people in Kenya.
This webinar took place on February 2nd and was moderator by Francis Arinaitwe (board member, Restless Development), with contributions by: Timon Bati (Researcher, Restless Development), Murugu Maureen Naitore (Researcher/Entrepreneur, Restless Development), Isaac Opiyo (Researcher, Restless Development), Philip Njoroge Kamau (Graphic Designer, Brand Country Entreprises), Irene Njori (Auditor, PwC), Caroline Kinundu (Researcher, Restless Development), Bonface Sagini Obuba (Project Officer, UN SDSN).