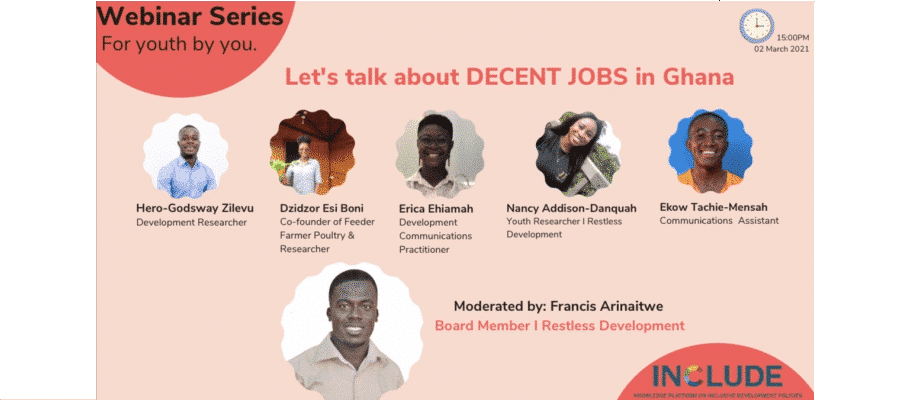 On the 2nd of March, youth from Ghana picked up our discussion on 'What and when is a job decent.' While the official ILO definition of a decent job resonates with the participants, they believe it to be so far removed from reality. Reflecting on this definition, youth from Ghana defined a decent job as one that provides a fair income, and offers better prospects for personal development, economic and social progression. According to the participants, it is difficult to overcome the decent job deficit in Ghana because of the insufficient number of jobs available to youth in the first place.
Ghana's employment growth is certainly not consistent with its robust economic growth. With high poverty rates, expanding youth population and most of its workers engaged in low-productive work, Ghana is faced with a conundrum. Thus, young people are exposed to uncertain work trajectories and imminent risks of poverty. To survive, youth in Ghana are thrusted into the informal sector as they find more flexibility, freedom and autonomy in this sector than in the formal one. Nonetheless, the unregulated nature of the informal sector decreases potential decent job opportunities. Lack of regulation and enforcement in this sector disadvantages marginalised groups such as disabled people and women. With that being said, young Ghanaian women still thrive in the informal sector and are highly represented. The participants' proposed solutions for a more decent and productive labour market include: increasing policy interventions and regulation within the informal sector; more discussion on the nuances of youth employment vulnerability; and finally reducing the labour market barriers that women face.
The following questions were explored in this webinar: 
1. Is a decent job only possible in the formal sector? 
Since the informal sector is unregulated, decency becomes difficult to achieve. With that being said, the participants advocated for the informal sector despite its ills. They believe that the informal sector gives more space for young people to be innovative and create more decent job opportunities for themselves. According to the participants, low educational attainment partially contributes to the growth towards informality. In addition, this growth may also be attributed to the formal sector's inability to create jobs in the required quantities, thus impelling youth to find jobs in the informal sector. Because it is possible to escape the regulation of government when working in the informal sector, it's also easy for mistreatment and indecency to occur. This sector in particular suffers from neglect of policy makers. Vulnerable groups such as women and disabled individuals are more susceptible to be negatively affected by the unregulated nature of the informal sector. Thus in the absence of regulation and social protection, the participants recommended the need for the government to regulate this sector whilst creating more job opportunities within the formal sector. 
2. Is 'decent job' different for men and women? 
Following the pattern of our previous webinars, Ghanaian participants also convey the same experience when it comes to the discourse surrounding gender equality within the workforce. The participants highlighted the issues concerning the persistent gender bias within the workforce. There is a feminisation of poverty, and this means that women are less likely to obtain decent job opportunities. Ghanaian women who secure decent jobs are still subjected to stereotypes that restrict any opportunities for personal and professional growth. The participants recognise the progress being made thus far as there are more women working in male dominated professions. However, there is still progress to me made as women are still undergoing unremunerated work and are disproportionately disadvantaged. This is particularly relevant to women from poorer backgrounds who are deprived of reproductive autonomy and access to education. To overcome this, we must incorporate measures and create opportunities for young women in employment policies and plans. In essence, a decent job demands saying good riddance to gender inequalities. 
3. How has COVID-19 affected the narrative of decent jobs? 
Unsurprisingly COVID-19 pandemic created an unprecedented turmoil within employment in Ghana. The pandemic brought with it an economic shock which resulted in the reduction of working hours and income whilst increasing layoffs. Naturally this affected the informal sector due to its unregulated nature and lack of social protection. Young women were adversely impacted. Prior to COVID-19, women in Ghana faced numerous obstacles when seeking decent job opportunities. However, the pandemic aggregated this issue and further increased the poverty experienced by women. Initially, women thrived in the informal sector, as Ghana has the largest share of women-owned businesses across Sub-Saharan Africa. However, with the rise of COVID-19 this drastically changed and put these women in precarious circumstances. To foster an economic recovery in the aftermath of the pandemic, a deep dive into labour market policies and social protection is necessary. Also the government needs to create more decent job opportunities for youth and support them during the recovery process. 
This webinar took place on 2nd of March and was moderator by Francis Arinaitwe (board member, Restless Development), with contributions by: Dzidzor Esi Boni (Co-founder of Feeder Farmer Poultry & Researcher), Erica Ehiamah (Development Communications Practitioner), Ekow Tachie-Mensah (Communications Assistant, ESSA), Hero-Godsway Zilevu (Development Researcher), Nancy Addison-Danquah (Youth Researcher, Restless Development).