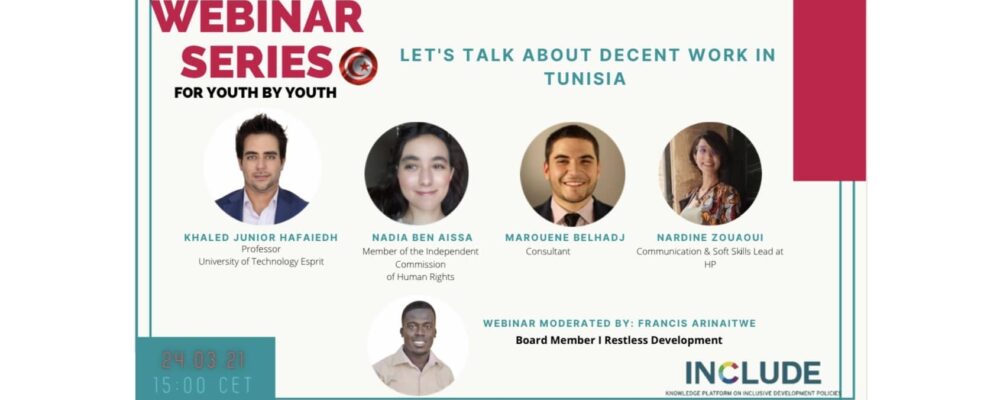 As we approach the end of this webinar series, we hand over our ongoing discussion on "What and when is a job decent?' to youth in Tunisia. For Tunisian youth, amongst other things, a  'decent job' must provide a fair income, security, social protection, better prospects, dignity and hope. Unfortunately, decent job opportunities are rarely available to youth in Tunisia.
On the rare occasions that youth find decent jobs, it is predominantly in the formal sector and concentrated in urban areas. Tunisian youth hardly encounter decent jobs in the informal sector due to rampant corruption. Jobs available in the informal sector omit key characteristics of a decent job such as a fair income, social protection and security. Youth are often coerced into signing contracts that offer little or no decency in order to survive and provide for their families. The participants highlighted how 'the surviving state' has become the new norm in Tunisia as youth have given up on their decent job aspirations. With that being said, even the formal sector falls short of the decent job requirement, as it also does not offer appropriate working conditions and fair incomes. In addition, women in Tunisia are confronted with issues concerning their security, as they are more exposed to harassment and aggression at work, and this is detrimental to female labour market participation. In order to change the narrative in Tunisia, the participants underscored a number of solutions: regulate the informal sector; promote job creation and innovative entrepreneurship schemes; eliminate corruptions in the informal sector; and finally, improve the quality of jobs available to young women in Tunisia.
The webinar was centred around the following two questions:
1. Is a decent job only possible in the formal sector? 
Youth in Tunisia are mainly exposed to informal employment, partly because of the labor market distortions, which could be addressed through reform. Stable employment, including long or medium-term contracts with social security benefits, is cited among the main career aspirations for Tunisian youth. Unfortunately, the informal sector fails to provide either of these. This sector is dominated by seasonal and temporary contracts as well as day-labor arrangements. The participants frequently mentioned the short-term nature of most contracts as a major aspect of job insecurity. Because of this, youth have adopted a survival mindset which only strives to get as much money as they can, as soon as possible, to stay alive (thus aborting their decent job aspirations). After the revolution, Tunisia experienced significant inflation and an increase in the cost of living. This has exacerbated the unemployment issue as young people are struggling to survive. The participants recognised that Tunisia is well positioned to be a champion in entrepreneurship and innovation, if it acknowledges the potential of its aspiring generation of self-employed youth.  
2. Is 'decent job' different for men and women
Despite the progress that has been made in the last decade towards gender equality, exclusion based on gender remains a daunting problem for young Tunisian women trying to enter the workforce. Not only are they excluded from adequate economic participation, they are also isolated from decision-making processes. Unlike their male counterparts, women struggle to find a decent job that guarantees their safety. Social propriety and familial concern for women's safety confine most women to their homes and limit their participation in the labour market. The lack of economic diversification means that there are fewer decent job options that are considered appropriate for women. Generally, the female participants were discontented with the informal sector and the risk of exploitation that comes with it. Moving forward, the participants called for more regulation in the informal sector to avoid women's exploitation. In addition, they advocated for a change of mindset amongst Tunisians to eliminate the stereotypes of women that hinder their future prospects.
This webinar took place on 24th of March and was moderator by Francis Arinaitwe (board member, Restless Development), with contributions by: Khaled Junior Hafaiedh (Professor, University of Technology Esprit) Maroeune Belhadj (Consultant), Nadia Ben Aissa (Member of the Independent Commission of Human Rights), Nardine Zouaoui (Communication & Soft Skills Lead at HP).