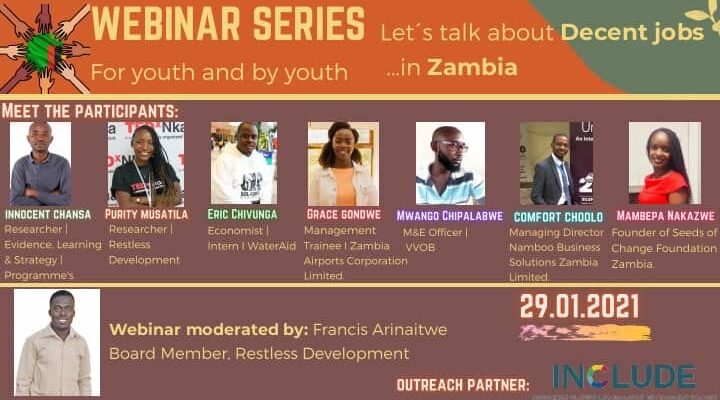 On October 8th 2020, Francis Arinaitwe, youth leader and a board member of Restless Development Uganda, launched the webinar series on 'What and when is a job decent to you' in collaboration with INCLUDE. The purpose of the webinar is to bring together youths from various African countries, including Egypt, Ghana, Kenya, Malawi, Nigeria, Rwanda, Tanzania, Tunisia, Uganda and Zambia, to unpack the official ILO definition of decent work and reflect on how it resonates with their own understanding in their respective countries. Highly intelligent and motivated youth from Uganda kicked off the webinar series, followed by Rwanda and now Zambia. On the 2nd of February, youth from Zambia contributed a very unique perspective to the discussion and further opened our eyes to various aspects of the discussion which we did not consider before.
https://www.youtube.com/watch?v=2yFhun-2fsM
Some of the questions discussed in this webinar include:
1. What does a decent job mean to you as a youth in Zambia?
The participants in Zambia stressed the importance of having a fair income that allows them to help their families whilst also contributing meaningfully to society. Beyond a fair income, a decent job for youth in Zambia is one that offers them a safe working environment, a space to express themselves and social protection. Often youth in Zambia find themselves working endless hours in jobs that fail to assist them with their career goals. Thus, the participants highlighted the need for a job that supports one's career ambitions and helps them actualise such goals. Zambian youth feel that both the formal and informal sectors can provide decent jobs. More so the informal sector, as they feel that there are more opportunities for financial growth and stability. In fact, participants working in the formal sector have admitted to the deficiency of growth potential and career support in this sector. However, the participants highlighted the misconception held by a lot of youth in Zambia who believe that the formal sector is the only place where a decent job is possible, thus neglecting those that exist in the informal sector. The solution to this misconception amongst youth in Zambia is a change of mindset through new educational reforms.
2. Is 'decent job' different for men and women?
The participants outlined the unequal access to decent jobs in Zambia which emanates from existing gender inequalities. Looking at the defining factors of a decent job such as fair pay, access, and security, the female participants agreed that there is a vast disparity in decent work between men and women. Women are often underpaid due to the existing misinterpretation that women have less responsibilities than men. In fact, there are a plethora of stereotypes about women that act as a barrier and hinder their chances of finding a decent job. When hiring a female, employers take into account external factors such as family life and relationship status. For example, employers are often reluctant to hire pregnant or married women. However, the participants agreed that effort has been made in recent years to empower women in the work force and give them equal access to opportunities.
In the public sector, the government has put in place deliberate policies that encourage equality in the workplace. With that being said, male participants pointed to the negative impact this now has on men. For example, most employees are now making a conscious effort to hire more women and adhere to the female empowerment movement. In doing this, they may potentially choose more female candidates over men just to close the existing gap. The male participants felt that this could encourage positive discrimination. Overall, it was agreed that steps are being taken to close the gender gap in the workplace, but there is still a lot to achieve.
3. How has COVID-19 affected the narrative of decent jobs?
Zambian youth feel that COVID-19 has further exacerbated their existing struggles to find a decent job. The economic precarity that came with the pandemic has turned the decent job narrative upside down. Millions of youth have lost their jobs and livelihoods, especially those who are concentrated in the informal sector. The negative impact of the pandemic fall disproportionately on young Zambians who were already under conditions of fragility. Survival becomes the only priority for many young people in Zambia, thus pushing the decent job narrative out of the picture. Against this backdrop, the participants stressed the need for a decent job now more than ever.
This webinar took place on February 2nd and was moderator by Francis Arinaitwe (board member, Restless Development), with contributions by: Innocent Chansa (Researcher, Evidence, Learning & Strategy), Purity Musatila ( Researcher, Restless Development), Eric Chivunga (Economist/Intern, WaterAid), Grace Gondwe (Management Trainee, Zambia Airports Corporation Limited), Mwango Chipalabwe (M&E Officer, VVOB), Mambepa Nakazwe (Founder of Seeds of Change Foundation Zambia).