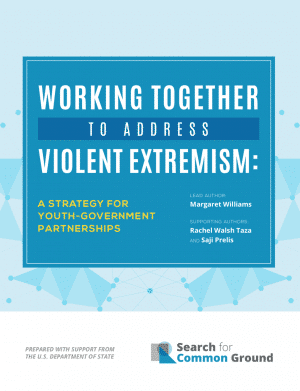 Policy highlights:
This report seeks to articulate the value of youth-government collaboration and partnership in preventing and countering violent extremism (P/CVE).
As partners for peace and positive agents of change, youth offer critical expertise and connectivity for state actors working to understand and address issues of peace and security.
Collaboration strengthens the design and implementation of P/CVE policies and helps address some of the fundamental grievances that have exacerbated the spread of violent extremism; it also helps bridge divides between youth, society and the government more broadly.
To enable youth-government collaboration and partnerships in addressing violent extremism, Search for Common Ground sets out the following underlying principles: (1) view and engage youth as critical, trustworthy partners in peace, from implementation to partnering; (2) acknowledge the drivers of violent extremism and adapt state-led responses; (3) foster partnerships and access for youth in P/CVE; (4) ensure fundamental freedoms are upheld, as well as the principles of human rights, religious tolerance, and individual safety; (5) maintain best practices; and (6) build an all-government and all-of-society movement.
The following recommendations/steps are suggested to further promote collaboration:
Work together: (1) convene a dialogue with youth, government, and other key stakeholders at the community or national level to review existing P/CVE policies or programmes and discuss the opportunities and challenges for collaborations to address violent extremism; (2) develop joint initiatives to better understand and address the drivers of violent extremism; and (3) coordinate and pursue a multipronged approach that brings in outside stakeholders across sectors (e.g. media, technology, services, and agriculture).
Within government: (1) integrate youth partnerships into pre-existing strategies, plans, and policies to address violent extremism, and avoid creating a separate 'Youth-CVE' national action plan; (2) support, collaborate, and partner with youth and youth-led organizations without conditioning participation on political party support or affiliation; (3) broaden responsibility for P/CVE beyond interior ministries and law enforcement, recognizing that the drivers of violent extremism cut across multiple sectors and there is a shared responsibility for addressing these drivers; (4) open up decision-making to youth participation; and (5) facilitate connections for youth across government institutions, ministries and departments.
Among youth and youth-led organizations: (1) integrate government engagement, partnership, and collaboration into P/CVE strategies, plans, and programmes; (2) ensure that youth are continuously reaching out to the most marginalized, assessing how your organization's operations promote inclusion or exclusion; (3) build partnerships with other youth-led and civil society organizations at the community level; (4) coordinate campaigns and activities, on and offline, with other youth and youth organizations on an ongoing basis; and (5) maintain independence and focus on P/CVE, regularly reviewing and communicating the results, impact and theory of change behind your work.