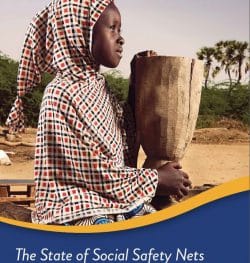 Policy highlights:
Social safety nets (SSN) and social assistance (SA) are tools to reduce poverty and inequality and build resilience. It is estimated that SSN transfers reduce the incidence of absolute povert by

36%

. Such transfers also reduce consumption/income inequality by 2% on average. However, only countries with substantial coverage and benefit levels make important gains in poverty reduction.
The data on social safety nets suggests: 1) a growing commitment to SSN/SA with a wide diversity of instruments (Sub-Saharan African countries now spend an average of 1.5% of GDP on SSN programmes, although many programmes are donor-funded), 2) that this has translated into an increase in programme coverage (e.g. in Tanzania, the Productive Safety Net Program expanded from 0.4 to 10% of the population, accompanied by an increase in programme spending from 0.03 to almost 0.3% of GDP in two years), and 3) that more is needed – in low-income countries, only 18% of the poorest quintile are covered by SSN programmes, while benefits as a share of the poor's income/consumption are at just 13%.
In Sub-Saharan Africa, the report shows positive impacts of cash transfer programmes on: 1) household crop production (the value of the overall production in Zambia almost doubled), 2) consumption (for basic needs) and productive investment – on average, household consumption increases by USD 0.74 for each USD 1 transferred (the Malawi Social Cash Transfer Programme reports the largest consumption impact, at 179% of the transfer value), 3) labour and time allocation – a switch from casual agricultural labour to on-farm labour (transfers do not reduce the labour supply or create dependency), 4) risk management and coping strategies – e.g. by diversifying income-generating activities, increasing savings, reducing detrimental coping strategies (in Zambia, the share of beneficiary households running nonfarm enterprises increased by 16 percentage points and businesses reported 1.4 more months of operation), and increasing social capital, and 5) local economies, creating spill-over effects in local markets.
For a quick and straightforward overview of the findings in this book, check out this infographic made by the World Bank.