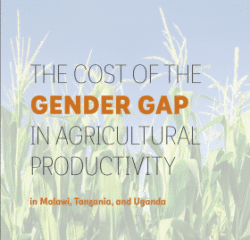 Policy highlights:
Women form a large proportion of the agricultural labour force in Sub-Saharan Africa, and play a vital role in ensuring family nutrition and food security. However, gender-based inequalities in access to, and control of, productive and financial resources inhibit their agricultural output and reduce food security.
Evidence from Malawi, Tanzania and Uganda shows that reducing the gender gap plays a significant role in poverty reduction and improved nutritional outcomes. Quantitative analysis suggests that closing the gender gap in agricultural productivity could potentially lift 230,000 people out of poverty in Malawi, 80,000 in Tanzania, and 119,000 in Uganda.
Cost-effective policy interventions to close this gap include: 1) addressing lack of access to labour by enabling women to adopt labour-saving technologies at home and by increasing their access to hired labour; 2) enabling women farmers to move into cultivation of high-value cash crops; 3) improving women farmers' access to and use of non-labour inputs in agricultural production (i.e. fertilizer, pesticide, improved seeds).