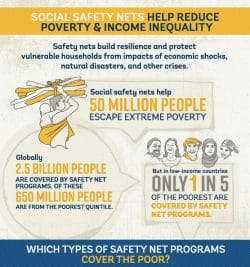 Policy highlights:
Social safety nets play an important role in reducing poverty and inequality worldwide. However, in low-income countries, only 1 in 5 of the poorest are covered by safety net programmes, while different types of safety nets provide different levels of coverage, e.g. (un)conditional cash transfers, school feeding programmes and social pensions.
Check out the infographic for a brief and simple overview of the role of social safety nets in inclusive development globally.
For a broader and more detailed perspective you can read the full report or our policy highlights to see what the report states about inclusive development in Sub-Saharan Africa.