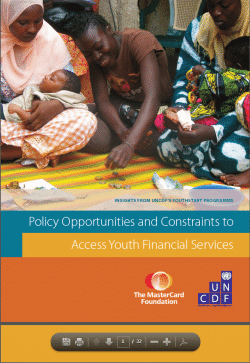 Policy highlights:
To cope with the poor economic conditions and lack of educational opportunities, many youth turn to the informal market for work and financial services. A better solution would be to provide more formal financial service opportunities for youth by including them in finance strategies. Youth represent the next wave of clients for financial service providers, with population growth expected to be 1 billion over the next decade, with high growth particularly expected in Sub-Saharan Africa.
Barriers that threaten the provision of youth financial services in developing countries include: 1) restrictions in the legal and regulatory environment, 2) inappropriate or inaccessible financial products, and 3) poor financial capabilities among youth.
To overcome these barriers and achieve successful financial inclusion of youth requires a multi-stakeholder approach that engages governments (including policymakers, regulators, and line ministries), financial service providers, youth service organizations and other youth stakeholders, as well as youth themselves.
While working together with multiple stakeholders, policymakers should: 1) create a youth-friendly legal and regulatory environment (minimizing restrictions on age and ID), install adequate mechanisms and regulatory bodies, and offer protection and abolish requirements for small deposits and withdrawals; 2) stimulate the financial sector to provide youth-friendly products, offer incentives or subsidies to encourage saving, encourage donors to focus on financial service providers for youth and promote innovative service delivery systems for youth; and 3) develop and implement a national strategy for financial education, develop a financial education curriculum which is also added to the national curriculum, support youth service organizations that work with out-of-school youth, enhance information provision to all stakeholders, and coordinate efforts in a multi-stakeholder setting.