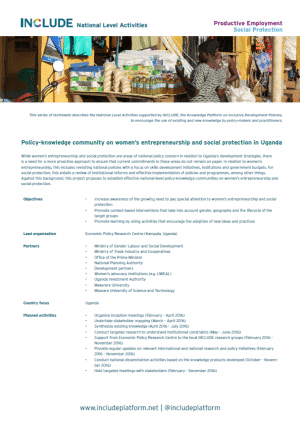 To encourage the use of existing knowledge in policy engagement in African countries and to facilitate the uptake of the findings of NWO-WOTRO & INCLUDE research projects at the national level or to fill gaps in INCLUDE's knowledge agenda not covered by these projects, INCLUDE supports policy-knowledge communities that are initiated by Platform members and supported by INCLUDE.
While women's entrepreneurship and social protection are areas of national policy concern in relation to Uganda's development strategies, there is a need for a more proactive approach to ensure that current commitments in these areas do not remain on paper. In relation to women's entrepreneurship, this includes revisiting national policies with a focus on skills development initiatives, institutions and government budgets. For social protection, this entails a review of institutional reforms and effective implementation of policies and programmes, among other things.
Against this background, this project proposes to establish effective national-level policy-knowledge communities on women's entrepreneurship and social protection.