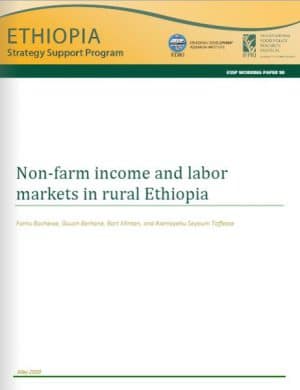 Policy highlights:
Increasing off-farm income (wage and enterprise income) is viewed as an important step in the transformation of rural economies. A large household survey in high-potential agricultural areas in Ethiopia shows that off-farm income makes up 18% of total rural income. Agricultural and non-agricultural wage income makes up 10% of total household income, the same proportion as income from livestock.
Off-farm income is more important for the poor and households headed by women and young people, since they typically own less land than the average household. Over the past decade high agricultural growth has increased wage income by 54%. This has relaxed liquidity constraints and increased productivity, but higher wages also induce new production practices that reduce labour requirements, such as mechanization and herbicide use.
The Agricultural Growth Programmes have been effective. Low wages have attracted investors, although only 7% of agricultural production is carried out by hired labour. Evidence suggests that connectedness and urbanization have improved the labour markets. However, rising wages are driving the adoption of labour-saving technologies, calling for investment in such technologies as well as skills training and flexible labour markets.