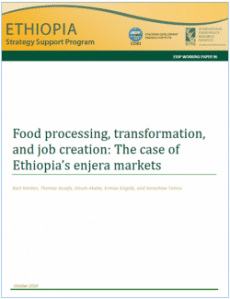 Policy highlights:
Given the importance of agriculture in developing economies, food processing industries often dominate the industrial sector. However, very little is known about the way this sector functions and how it is changing.
This paper looks at the commercial production of enjera (a staple pancake) in Ethiopia and the emergence of enjera-making enterprises. The changes in the sector have important implications for gender relations, jobs and trade.
The main findings of the research include: 1) enjera markets are transforming, especially due to urbanisation (i.e. people are buying rather than making enjera; 2) this sector provides a high level of employment in Ethiopia, mostly for women; 3) the emergence of commercial enjera markets promotes international trade; 4) the growing demand for enjera is boosting the growth of many medium-sized firms, as well as providing opportunities for many small (informal) businesses.
These findings have a number of policy implications: 1) more attention needs to be paid to the promotion of off-farm aspects of agricultural value chains, as they have important impacts on employment and food security; 2) more attention should be paid to (international) trade policies to promote the development of agricultural economies and food exports; 3) more focus is needed to stimulate local, import-substituting rice production to accommodate food demand and help alleviate foreign exchange scarcity in the country.