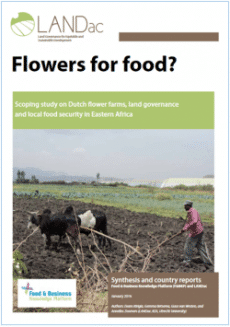 Policy highlights:
The Dutch government sees private sector investments as levers for poverty alleviation and inclusive growth. One important sector is the floriculture industry; hence, many Dutch flower companies have set up businesses in East Africa.
While the Dutch flower companies are contributing to economic growth in Kenya, Uganda, Ethiopia and Tanzania, their mode of operations has negative consequences as well. These include 1) reduced access to land for local communities, because the flower companies buy all the land; 2) eroded regional food security, because land previously used for food production has been placed under flower cultivation; and 3) endangered local livelihoods because flower-farm employees do not earn enough to secure their food needs.
To address these negative impacts of Dutch flower companies on their areas of operation, some policy-recommendations can be made: 1) provide land to employees for on-site food production; 2) invest in strengthening local communities to ensure their land rights are not violated by public and private entities; this can be done by establishing partnerships with local civil society organizations; 3) prioritize employment of people from the region; 4) raise the level of wages for flower-farm workers; 5) introduce programmes to foster technological transfer from floriculture investors to local smallholder farmers; and 6) establish partnerships with local smallholder farmers who can cultivate food crops for companies' meal programmes.