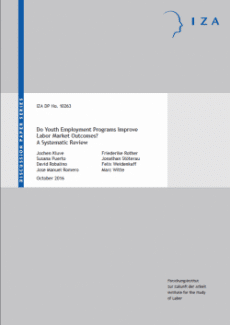 Policy highlights:
This meta-study is based on the ILO systematic review dataset. It reviews 113 studies on the effectiveness of youth employment programs in terms of 1) impact on employment and earnings, 2) types of beneficiaries and 3) program design and implementation. Most youth unemployment programs have a positive effect. There is no specific program or combination of programs that systematically outperforms others.
What eventually determines a program's effectiveness are 1) Country context (for example, the effect on employment and earnings is especially significant in low- and middle income countries),  2) the combination of different interventions (youth unemployment programs rely on the ability to respond to needs and constraints in the context of a heterogeneous group of beneficiaries), and 3) paying attention to individual monitoring and profiling and providing incentives for providers.
A better standard for monitoring and evaluation on youth programs is needed. It is important for future record to include information on program costs. This has not been done regularly and would provide a valuable addition to meta-studies.