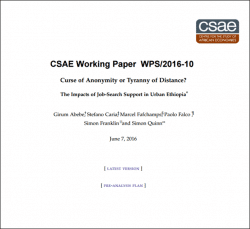 Policy highlights:
A key challenge for policymakers is to find ways to support the growing urban labour force. Especially young people who move to the cities have difficulty finding productive employment.
In Ethiopia, two programmes targeting 4,000 young Ethiopians have been put in place to lower spatial and informational barriers to job search. Evaluation of these programmes found that transport subsidies and workshops that provide skills certification and help in formulating job applications have significant effects.
Compared to individuals in the control group, participants of the programme are nearly 40% more likely to find permanent employment and nearly 25% more likely to be in formal employment. Those receiving the transport subsidy are 25% more likely to be in formal employment.
The effects of the interventions were stronger for youth, women and workers without tertiary education. This shows that active labour market programmes can improve employment outcomes for urban jobseekers in developing countries, and especially for the most disadvantaged.