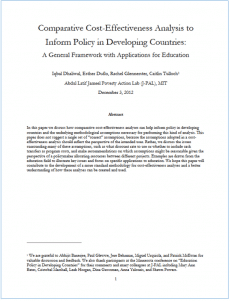 Policy highlights:
In order to encourage policy makers to base their policy decisions on scientific evidence, scientists should include cost-effectiveness analyses in their research, because policy makers will always have to take this aspect into account when deciding on what programmes to include in their development policy framework.
This paper presents a cost-effectiveness analysis for student attendance and enrollment to illustrate key issues that come up in such analyses. It focuses on eleven programmes from six countries, comparing their cost-effectiveness in terms of increasing children's time in school.
Research yielded some important insights for policy makers: 1) Informational campaigns and school-based deworming provided greatest value for money: Programmes are inexpensive and cause large increases in student attendance and enrollment; 2) Programmes that reduce costs of schooling through subsidies are effective, but more expensive; 3) Conditional cash transfer programmes are not as cost-effective to increase time in school.
Despite the importance of these data for policy makers, for researchers it remains a challenge to appropriately measure and compare quality of learning across programmes and countries. This challenge of comparison goes for all cost-effectiveness analysis, as it remains difficult to convert all costs and impacts into "common units".