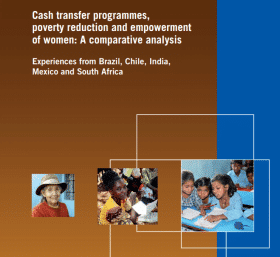 Policy highlights:
This analysis focuses on selected cash transfer programmes in five countries: Brazil, Chile, India, Mexico, and South Africa.
In relation to poverty, health and social services, it was found that cash transfers 1) lighten the burden of women's poverty and enable a fraction of them to leave poverty altogether, 2) improve nutrition of women and their families, 3) make daughters' education more feasible and attractive, and 4) can provide women with improved access to health care. However, transfers are insufficient to enable women to renounce poverty in large numbers or to offset increases in the poverty rates of women relative to men.
In terms of women's economic empowerment, it was found that cash transfers can make a difference. Women reported to have greater knowledge, optimism, self-esteem, and activism in addressing problems. Some women gained leverage in household bargaining and could save, obtain credit, and invest.
To provide greater support for women's agency, some recommendations for policy include 1) use individual entitlement for transfers to redress gender discrimination in families and communities, 2) incentivize behaviours that support gender equality by rewarding them with higher transfers, 3) establish voluntary roles in programme administration that give women new identities outside the home, 4) involve women's NGOs in programme administration, 5) use the programme's personnel policies to create an organizational culture supporting gender equality.