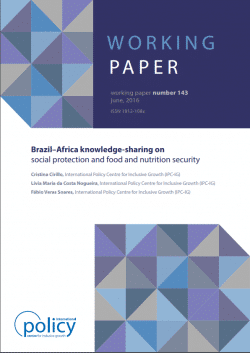 Policy highlights:
As Brazil's social protection and food security policies have been identified as a successful experience, knowledge exchange with African countries has increased since the late 1990s with some positive results for African countries.
It has stimulated confidence in the role of cash transfers to reduce poverty and promote education, and has bolstered the commitment of African leaders to strengthen social protection systems.
African participants recognize the importance of coordinated interventions through centralized databases, regulations and the involvement of high-level government institutions.
However, in only a few cases did the Brazil–African initiatives result in structured or formalized long-term cooperation.
To encourage more effective knowledge exchange policymakers should invest in: 1) a sound legal framework for international cooperation; 2) more human capacity to take on the workload; 3) more financial capacity to cover the costs of technical assistance and program implementation; 4) better adjustment of the Brazilian example to the African social and economic context.