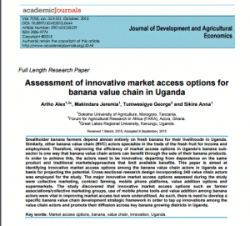 Policy highlights:
Uganda's smallholder banana farmers, as well as other actors in the banana value chain (BVC), depend almost entirely on fresh bananas for their livelihood, but over the last few years the benefits derived from bananas have decreased.
BVC actors need to adopt innovative market access strategies – alternative avenues through which they can supply and sell their product to other value chain actors – to secure their income.
Recommended strategies for BVC actors include: 1) engage in group contract-farming and collective marketing; 2) invest in mobile phones to acquire timely market information; 3) invest in advanced processing and value addition (for example, by producing banana wine) for employment creation and income generation; 4) establish partnerships with other sectors.
Policymakers have an important role to play as well. They should adopt measures to transform the BVC by: 1) discouraging the use of intermediaries; 2) supporting the establishment of farmer organizations; 3) providing financial assistance; and 4) facilitating the diffusion of innovations.