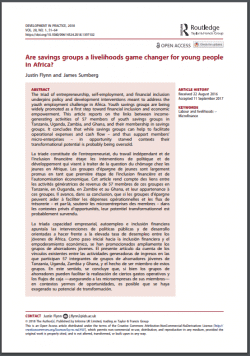 Policy highlights:
Savings groups are often argued to be a 'livelihoods game changer', promoting financial inclusion, good savings behaviour and asset accumulation, as well as helping young people to start or expand entrepreneurial and other income-generating activities (only 4.2 million of the 800 million young people living on less than US$2 per day globally have access to financial services).
However, savings group programmes have produced mixed and inconclusive results. To find out more, this study interviewed 57 members of a youth savings group combined with a training programme in Tanzania, Zambia, Uganda, and Kenya on their use of loans and share pay-outs.
 With only modest investment, the creation or expansion of small-scale income-generating activities (characterized by low barriers to entry, low skills and low investment) tends to increase competition for resources and income. In the study, there were only a few examples of investment in skills, capital goods, and technology upgrading. Hence, it appears that savings groups do not produce productive entrepreneurship outcomes.
Policymakers should approach savings groups in such contexts differently, not expecting an (immediate) revolution in local economic activities, but still recognizing their added value: 1) savings groups can sustain levels of economic activity and income generation, 2) the real benefits of membership may lie in learning, behavioural change, building social capital and accumulating assets (the implication is that these programmes may need to be evaluated over a 5–10 year timespan) and, finally, 3) savings groups can solidify young people's social networks, allowing them to cope with situations of economic precarity.
Finally, policymakers should recognize that 'youth' is a diverse category and not a homogenous group. They should be approached as such.