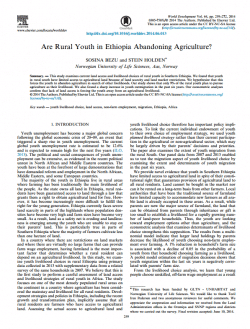 Policy highlights:
As a result of the lack of access to land, Ethiopian youth are looking to other livelihood opportunities.
Only 9% of Ethiopian youth see agriculture as a viable option; however, other employment opportunities are limited. This has resulted in increasing migration to urban areas as well as rising youth unemployment.
Measures that can be taken to improve the situation include: 1) improving non-farm employment opportunities in rural areas through youth-targeted employment-generating schemes and entrepreneurial trainings; 2) relaxing restrictions on land rental markets; and 3) providing group land access to youth for high-value crop cultivation and livestock production.