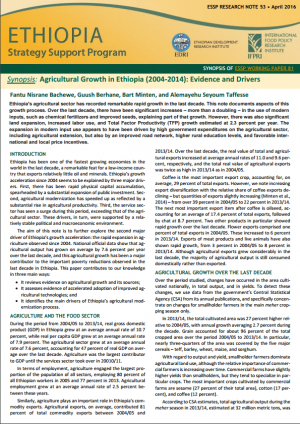 Policy highlights:
Between 2004 and 2014 Ethiopia's agricultural sector grew at an average annual rate of 7.6% as a result of land expansion, an increased use of modern practices and labour, a 2.3% growth in productivity and possibly increased farm management skills.
This is the result of increased expenditure on agriculture by the Ethiopian government, which was driven by the Comprehensive Africa Agriculture Development Programme (CAADP). The expenditures were successfully invested in extension services and market access.
Focus points for future intervention in Ethiopia include sustainable intensification of agricultural production, the provision of appropriate chemical fertilizer packages, encouragement of the use of improved seed varieties, and involving the private sector in input markets.