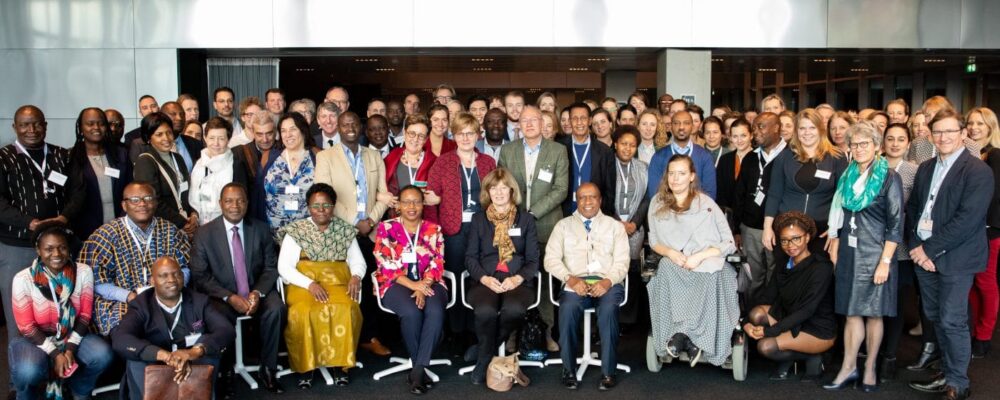 After four years, the NWO-WOTRO funded programme Research for Inclusive Development in Sub-Saharan Africa (RIDSSA) has come to an end. At the same time, with a subsidy provided by the Dutch Ministry of Foreign Affairs (MFA), INCLUDE is entering a new four-year phase. In the coming years, INCLUDE will make use of new research funding channels, and expand its focus to new countries and inclusive development themes. It also welcomes new platform members and a (partly) new Secretariat. But before we move forward, it is time to look back and take stock of what four years of RIDSSA has brought to the table.
This stocktaking was done on 20 November 2018, when INCLUDE organized the final research workshop 'Key learnings inclusive development'. Researchers from the RIDSSA programme, INCLUDE platform members, the INCLUDE Secretariat and NWO-WOTRO representatives gathered in The Hague to discuss the findings from the 17 RIDSSA projects, the resulting four synthesis reports developed by the Secretariat, and the recommendations drawn from these for development policy. The workshop also served as preparation for the INCLUDE public conference 'From research to practice: inclusive development for future prospects in Africa', hosted by INCLUDE and the MFA the following day. A full report can be found on the November 20 workshop here and the 21 November conference day here.
Building a RIDSSA community
How did it start? In 2014/2015, 17 projects were awarded funding as part of the RIDSSA-programme: 5 on productive employment, 7 on social protection and 5 on strategic actors for inclusive development. The interim and final findings from the projects have been disseminated on the INCLUDE website, as well as during conferences, workshops and lunch seminars. As such, over the years, a solid and committed RIDSSA community has been built, consisting of researchers, platform members and policymakers. Although too many to mention all, some events in particular have contributed to building this community. For example, the workshop 'Knowledge activities for inclusive development in Africa', held in October 2014 in The Hague, kick-started the RIDSSA programme with pitches from the research projects. A year later, in October 2015, interim findings were disseminated during the conference 'What works to promote employment prospects for women and youth' in Leiden, which resulted in animated dialogue between researchers and Dutch policymakers. Cashing in on these established relationships, INCLUDE, teamed up with the MFA to organize two public conferences: 'Boosting youth employment in Africa' in May 2017 and 'From research to practice: inclusive development for future prospects in Africa' in November 2018.
Findings of specific relevance to local and national-level policy making in Africa have been disseminated by the projects in numerous workshops and policy dialogues in African countries. Examples include the multi-stakeholder workshop for knowledge-sharing, organized by the project 'Agricultural Partnerships' in September 2015 in Ghana, the closing conference of the project 'Inclusive Business Strategies in Africa' held in June 2017 in Nairobi, the 'African policy dialogue on women's entrepreneurship and social protection in Uganda' and the capacity-building training on 'Roads for water and livelihoods in the Horn of Africa', organized by the project 'Feeder Road Development' in Tigray in March 2015. This training has yielded impact, as shown by the fact that the Ethiopian Road Authority has used the findings from the project in developing road water harvesting guidelines (see the project's Research update).
RIDSSA researchers also participated in several 'policy-research workshops' organized by INCLUDE around each of the three RIDSSA themes: productive employment, social protection and strategic actors. In these workshops, researchers, together with the INCLUDE Secretariat, Steering Group and WOTRO representatives, drew overall conclusions that go beyond the individual research projects. These conclusion served as input for the synthesis reports. A final and fourth policy-research workshop took place on 20 November 2018 on the overarching theme 'inclusive development'. The Secretariat and platform members were able to disseminate overarching research findings in several (pan-)African conferences. In May 2016, INCLUDE teamed up with the African Development Bank to organize a widely appreciated panel discussion on 'Jobs for women and young people – the transformative potential of agribusiness' at the Bank's Annual Meeting in Lusaka, Zambia. In December 2017, INCLUDE joined the biannual conference of the African Economic Research Consortium in Arusha, where it held a roundtable on 'Strategic actors for productive employment'. The synthesis report on strategic actors was presented at this roundtable and discussed with platform members and policy stakeholders. In addition, in June 2018, INCLUDE teamed up with the Economic Policy Research Centre to organize the conference 'Social protection for inclusive growth in Africa', at which it disseminated findings from the seven research projects on social protection within the RIDSSA programme.
Such continual face-to-face interactions have resulted in a committed and solid community of research and practice on inclusive development, in which INCLUDE intends to continue to facilitate.
Taking stock of the results
The 17 research projects have yielded insights relevant to inclusive development programmes and interventions, both at national and local levels. In addition, general and overarching conclusions can also be drawn from the projects. These were brought together by the INCLUDE Secretariat and linked to the broader state-of-the-art literature in four synthesis reports: on productive employment, social protection, strategic actors and an overall synthesis report on inclusive development. These reports speak directly to the key objective outlined in the BHOS policy note of the MFA 'Investing in global prospects: for the world, for the Netherlands', which aims to provide economic opportunities for youth in Africa. This section outlines the key messages and learnings highlighted in these reports.
On productive employment
In the context of high un- and underemployment, especially for youth, the number one priority for many African governments is the creation of employment. The projects on productive employment focus on different sectors, such as agriculture, (IT) services, and infrastructure. The synthesis report on productive employment concludes that the highest potential for massive job creation comes from raising agricultural productivity. The RIDSSA project 'Productive Employment Opportunities in Segmented Markets' shows that when farmers are connected to international markets though contracting their income increases, thereby creating economic multiplier effects. Next to agriculture, the (informal) services sector, particularly IT services, also has potential to enhance employment, as demonstrated by the research project on the 'IT-sector in Kenya'. This study found that incubators can support IT enterprises to create employment by creating social space for peer-to-peer support, social capital and a community of practice. The project 'Feeder Road Development' in Ethiopia illustrates that infrastructure has important direct and indirect employment effects, through job provision in the design, construction and maintenance of infrastructure projects and especially by enhancing productivity in other sectors such as agriculture, agro-processing, the services sector and extractive industries.
Next to creating massive employment opportunities in high potential sectors, interventions should also aim at enhancing access to jobs and job opportunities, especially for women and youth. Interventions aimed at offering multiple services, including education and (hard and soft) skills training, long-term mentoring, enhancing asset ownership (for example land) and social networks, are most effective. Moreover, an important conclusion from the research projects is that policymakers should always keep in mind the relevance of their interventions for, and the aspirations of, end users. The project 'Empowering Female Ugandan Entrepreneurs' found that, in contrast to Western understandings of entrepreneurial priorities, many female entrepreneurs in rural Uganda are not primarily concerned with growing their business, but with paying tuition fees and supporting their family. Assistance and services provided to them should, therefore, take this into account and may differ from those provided to entrepreneurs who primarily aspire business development.
On social protection
The research projects on social protection all conclude that social protection is not only a powerful tool to alleviate poverty and prevent people from falling into poverty, but also an important policy instrument to address economic, social and political exclusion and vulnerability. It can be a key ingredient for improving the 'future prospects' of the poor, which has been set as a key objective by the Dutch Minister of Foreign Trade and Development Cooperation. Yet, as the RIDSSA projects point out, for social protection interventions to provide such prospects, they should be aimed at building sustainable systems that ensure continued impact after a programme has ended. As found in the projects 'Social and Health Policies for Inclusive Growth' and 'Social Protection in Uganda', cash transfers in particular can generate significant multiplier effects, caused by spill-over effects in the local economy, mostly through increased production and consumption, but also through enhanced food security, (child) health, land tenure and overall human capital. As such, these projects call for a move away from perceiving social protection as a safety net, to perceiving it as an empowerment strategy.
On strategic actors
Inclusive development is not only about macro- and micro-economic policies and outcomes, it is also about ensuring that such policies are not hindered by institutional barriers or political and economic elites. For example, the projects 'Inclusive Business Strategies in Africa' and 'Dutch Multinational Businesses in Africa', show that private sector investment has the potential to contribute to inclusive development, but that this potential stands or falls on an enabling political environment. Hence, power analyses should be central to inclusive development research and interventions. This also requires the identification of who the strategic actors are, and ensuring alliances between them and the most marginalized. For example, in the project 'Barriers to Batwa Inclusion in Rwanda', the local authorities appeared to be a crucial partner in achieving inclusive outcomes. At the same time, there is a high level of mistrust towards the local authorities on the part of the Batwa, who, as a group, are not able to communicate their needs directly, leading to feelings of exclusion, frustration and hopelessness.
The projects on strategic actors illustrate the importance of grassroots involvement in development processes, and the need to build coalitions and for collective action. In fact, the projects show that change can sometimes be driven by actors with no formal decision-making power, as long as they work together and form the right alliances. For example, the project on 'Informal Workers' Political Leverage' shows that informal trade unions and informal workers' organizations can be strategic actors for improving the position of informal workers, if they function as hubs that stimulate collective action and the provision of services (practical and structural). Moreover, the projects provide recommendations as how to build successful alliances, for example, how to overcome issues of mistrust. The 'Agricultural Partnerships' research project found that companies in Ghana are willing to participate in agricultural partnerships when there are clear cost-sharing, risk-sharing and contract-based arrangements. It is, therefore, crucial that the benefits of joining such partnerships are made visible to the actors involved.
On inclusive development
The synthesis report on inclusive development, which brings together the findings from the various projects on the three RIDSSA themes, concludes that interventions to reduce poverty do not automatically reduce inequality. To attain more inclusive development, the distributional consequences of programmes and interventions should also be considered. Such an 'inclusivity lens' requires knowledge of who benefits from policies and interventions and who does not (or is even harmed by them). The RIDSSA projects give multiple examples of policies that, despite leading to absolute improvements in income and wellbeing, have resulted in an unequal distribution of the benefits, thereby enhancing inequality rather than decreasing it. For example, the project 'Economic Empowerment and Sex Work' shows that homosexual sex workers are even more marginalized within the larger group of sex workers and, without this understanding, interventions are likely to leave them further behind. In addition, the project 'Feeder Road Development' found that the positive effects of infrastructure development in Ethiopia are not equally distributed, as people who are already better-off tend to benefit more.
There is no one-size-fits-all solution, and interventions are most effective when they are tailor-made and aimed at improvements in various policy dimensions. For example, the project on feeder roads in Ethiopia recommends that access to the benefits of road improvement can be increased and more equal when such infrastructure projects simultaneously invest in affordable and reliable rural transport to accommodate the diverse needs of men, women, the elderly, disabled and youth. Another example is provided by the project 'Social Protection through Maternal Health Programme', which found that despite the provision of free maternal services in rural Kenya, (poor) women still faced numerous hidden constraints, thereby enhancing inequality. Hence, such services are more effective in reducing inequality when complemented by context-specific policy measures, for example, related to education, training and technical assistance. Importantly, programmes that do not reflect the needs and desires of participants can cause more harm than good. This is illustrated by the project on 'Social Protection in the Afar Region'. This project found that Ethiopia's Productive Safety Net Programme failed to reach the most marginalized (notably pastoralist and agro-pastoralist youth and women), as they were not included sufficiently in the process. Consulting local actors – including the potential beneficiaries themselves – on how services can best be delivered is key in improving the effectiveness of development interventions.
What's next?
Since its inception, the RIDSSA programme has yielded positive impact through the close collaboration of researchers, policymakers, and local communities, both in the countries of research and the Netherlands. Although the programme has officially come to an end, INCLUDE will continue to build on and promote the RIDSSA findings and disseminate these in policy discussions in the Netherlands, African countries and beyond. Findings have already been presented during the 'OECD youth inclusion expert meetings' in Paris in 2017 and 2018, the 'Africa talks jobs dialogue' of the African Union in Addis Ababa in 2017, the OECD GOVNET meeting in 2018, the ESID workshop on 'Relational approaches to social justice' in Manchester in 2018, and the annual ambassadors conference of the MFA in The Hague in 2019. Moreover, the established body of knowledge will contribute to the new knowledge agenda currently being formulated within the INCLUDE platform.
As a final word, the INCLUDE Steering Group and Secretariat would like to thank the RIDSSA researchers and NWO-WOTRO for their commitment and welcome them to remain part of the INCLUDE community.