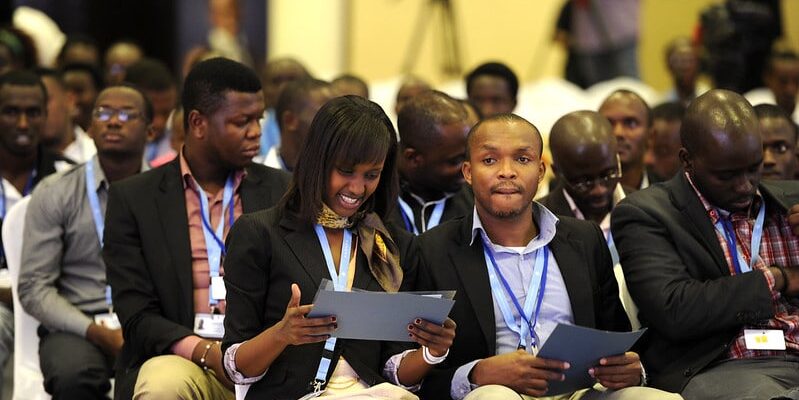 Last week I moderated a session at the INCLUDE conference: 'Building forward more inclusively' on "Merging perspectives on decent employment for Africa's youth post pandemic", with a focus to build forward better. I will be sharing reflections and insights from this session, as well as my own experience being a young African living in Africa, and my work with other young dynamic leaders on the continent.
About 500 million jobs were lost during the COVID19 pandemic, and the majority of these job losses affected young people who had an even higher rate of unemployment before the pandemic as compared to older adults. In my country Nigeria, the general unemployment rate was 33.3% as of the 4th quarter of 2020. Now 60% of the Nigerian working population is less than 34 years old, but the unemployment values for that demographic stands much higher than the national average- 53.4% for those aged 15 to 24 and 37.2% for people aged 25 to 34. The burden of unemployment is even worse for young women who have the so-called "disadvantage" of being both young and female in Africa. I use Nigeria as an example because I am Nigerian, and live in Nigeria, and these numbers are more than just statistics, they are the reality that I live with every day. In a few short points I will share the summary of our discussion on the major challenges on youth employment in Africa:
There just are not enough jobs. The private sector is not strong or diverse enough to provide employment for this youthful dynamic population. A weak private sector, high unemployment rates and unfavourable government policies that stifle growth and innovation has caused our cities to suffer and has stunted development.
Still a large proportion of our educational systems are not providing young people with not only the skill, but also the opportunity to be economically valuable in the job market. Basic education is the bedrock of development, and many African countries have not fully maximized the potential for relevant and innovative educational systems for young people.
In the jobs that do exist, there is much to be desired regarding social protection- such as fair wages, non-exploitative and fair working conditions, and basic social rights like health insurance, parental leave, etc. A great number of young people are also engaged in informal employment- which in itself may not be the problem as far as Africa is concerned. The problem is that they do so with no safety net. They do so in an environment with failing infrastructure, inflation and sky high prices of basic amenities like food, electricity, healthcare and housing.
Really, Being a young person in Africa today many times means that sometimes you start your struggle 100 steps below your counterparts.
I will move on to discuss major points on the way forward because that is indeed the focus of this entire conference and the discussions.
However, I elaborated those challenges because in order to look to the future, we must understand and fully appreciate how the past led us to the present.
The first and most overarching recommendation that came out strongly from the conversations on the way forward is that there must be intergenerational co-leadership, and collaboration. It is no news that on the continent, young people are largely missing from the big and most important tables, even when they have the required skill and experience. Young people have to co-create whatever solutions or policies that will affect them, and not just be the end users of already formed policies. And it is crucial that this process is inclusive, thorough and devoid of tokenism. We have to partner with young people who live in the reality of these challenges, and have them come to the drawing board to decide the next steps. Oftentimes young people are included only at the end- many times to "publicize what has been done" or lead advocacy or bring a "youthful feel" to an already designed and implemented campaign. Where were those young people during the ideation and conception phase? And when we do include young people, do we ensure that we reach out to the best people for the job? The fresh faces? The ones whose voices matter even though they may not have a big platform? Do we put effort, time and energy into ensuring we find those voices, and listen to what they have to say? A good model which we have used is reaching out to existing country structures for young people such as youth councils and civil unions, civil society organizations, universities, and networks working with grassroots youth. Without these components, it will be difficult to create policies that are relevant to the experience of young people today and are sustainable for our future development.
A second recommendation is the strengthening of the private sector with emphasis on access to financial services and favourable policies for SMEs. My colleagues at the Youth Charter Hustlers Program also make an important case for the necessity to create a bridge from school-life to work-life through internships, work study programs, etc that are non-exploitative and place value on the young people being employed.
Finally, the AfCFTA African Continental Free Trade Area provides a unique opportunity for the explosion of the youth job market on the continent through inter-regional trade, removing barriers and allowing access to a wider market. I recently tried to buy a product from a young woman living in southern Africa. It was stressful and tasking, and it would have been much easier for me to order from London. But together, we figured out a way to make it work. For the AfCTA to survive long term, it has to be driven by young people. We have seen young people innovate by utilizing technology through digital payment services and social media platforms to connect businesses across the continent. This model is thriving despite the barriers separating these countries. How about if it is made even easier? How about we study the young people's model, and incorporate into the wider discussion of the AfCTA to see how this burgeoning economy can be made to grow with political backing and the huge financial resources the more established institutions have to offer?
I will close with this- there have been several social movements across the continent, calling to hold African leaders accountable, and to fulfill their social contract to provide for and protect their people. The majority of these movements have been led and driven by young people. There is dynamism, leadership qualities and strength to be found among African youth. The best possible outcome would be achieved when this huge potential is tapped into, and young people are included at the big and important tables from the very beginning, to closely collaborate and work on policies together with our current leaders.