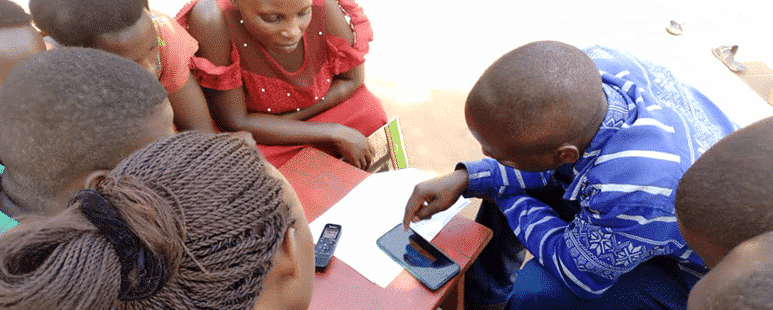 This blog is part of a study on the usability of a gamified training application, a digital credit application and an information collection and database application with beekeepers in Uganda, in collaboration with TUNADO and Woord en Daad.
Digital technologies can change the way value chains develop. However, digital innovation does not mean that everything is new – or even digital. Old habits die hard whether they are digital or not, and solutions need effective ways to reach the intended users. An app needs a phone, a phone needs a hand. The type and capacity of the device are also important, as we show in our previous note.
The digital applications were introduced in rural Uganda, a setting where smartphone use is very rare. This means that intermediaries are needed to inform, convince, and educate the end users about the workings and added value of digital applications. This implies physically doing outreach, sensitization, training, and workshops. Notably, there are human and social elements in these digital innovations. In particular, the gamified learning application which provides skills and knowledge training, requires a workshop to help users navigate a new kind of digital tool, rather than only introducing digital innovation. The smartphone of the intermediary may be the only digital appliance in these workshop settings. Think about a group training session under a tree, while the trainer is holding a small screen on a sunny day.
Trust is another big factor in the successful adoption and usability of technology in the developing world. While registering farmers on a credit application, farmers were reluctant because many Ponzi schemes have similarly used apps to enrol their victims. Farmers may suspect that data is used to request grants and donations without them receiving a portion of the money as a result. Additionally, some farmers have experience with broken promises of credit and loans. When farmers are asked to present their national identification numbers for verification, they tend to be concerned about hidden motives.
In such cases, mediation plays an important role, as a trainer with TUNADO recounts: "Sometimes it takes the mediation of someone else they trust to have [beekeepers'] attention." Besides the technical competencies of intermediaries in the transfer of required skills and knowledge to operate apps and use them in trainings or as proxy users, their social skills and relationships with the end users matter. The fact that the intermediaries represented a trustworthy organization and spoke the same language made a huge difference.
While some of the questions of context and social aspects are dealt with in the report, we should find out more about adaptability issues and reflect on the question of when a digital innovation makes more sense than other interventions. The answers to these questions are partly dependent on the quality of broader infrastructure and levels of digital literacy and skills. This holds for trainers, proxy-users and end-users of digital alike. Having more insight into the importance of these factors would help the push to go digital in rural development.
When designing and implementing a digital solution, it is key to step out of the virtual interface and see how trainers, intermediaries, users, their networks and their friends engage with the solution. The fact that the applications are digital does not diminish the importance of personnel that is required to facilitate their use. Skilled trainers are needed. These intermediaries fill in the digital gaps with physical presence.
You can read the full study here.
For more from our series on digitalisation in the apiculture sector in Uganda, please visit this page.