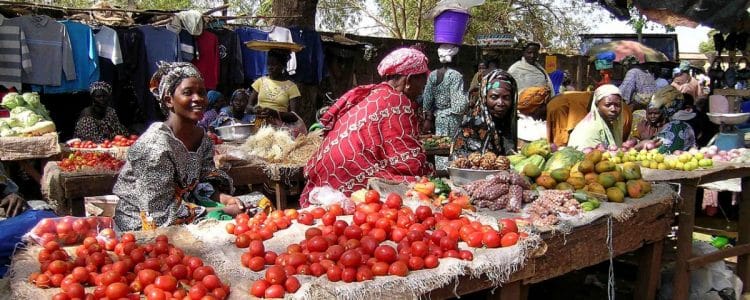 Anthropologist Tanja Hendriks currently resides in Malawi where she collects stories of youth about their dreams, economic activities and livelihoods. In addition, she works as a research assistant for Saskia Vossenberg, PhD researcher at the Centre for Frugal Innovation in Africa (CFIA). Tanja wrote this guest blog in the series  written by Saskia. Earlier posts appeared on 9 may and 28 June.

Going to 'Johni'
I'm sitting outside on my veranda, waiting for the bathwater on the charcoal stove to heat up while talking to Henry. Henry (20) will be a father soon. His wife, Leila, is expecting their baby before the end of this month. She is only 17 and recently dropped out of school. I ask Henry if he is looking forward to the birth of his child. "Yes, I am, but I might not be here because I'm leaving for Johni soon." 'Johni' is the affectionate nickname that Malawians have given to the city of Johannesburg in South Africa, one of the places where money can supposedly be made.
Henry says that he is going there to work. "Have you been offered a job?" "No, not yet. But I'll easily find a job once I reach." He adds: "Look, if I stay here, I definitely won't find a job. There are no jobs in Malawi for people like me". By 'people like me' Henry refers to young Malawian men who hardly speak English and haven't had the chance to finish primary, let alone secondary, school. Having no qualifications means having to live off of piece work or employment or survival entrepreneurship in the informal sector, earning (too) little money and irregularly. As he will soon have to care for a family, Henry sees no other option but to leave for South Africa.
His determination makes me wonder what his choice means for Leila. After she found out she was pregnant, she moved from her parents' home to Henry's small rented house. She also moved from being a child to being wife. She is used to performing household chores, but not used to fending for herself or running a household; what will she do when Henry migrates?
Migrating men: looking for jobs
Henry is not the only one embarking on this journey in search of employment. Many of the young under-privileged Malawian men I meet are talking about migrating to South Africa and, in 2014, IOM estimated that more than 80% of all Malawian emigrants do so.2 Lack of steady employment is a serious challenge in Malawi, with ILO estimating that over 90% of Malawian youth are working in the informal sector with no chance of securing a formal job. Being one of the richest countries in the region, having a long history of receiving labour migrants from Malawi and being relatively easy to reach by road, it comes as no surprise that many others have preceded Henry in seeking work in South Africa. Family members and friends can 'invite' fellow Malawians to join them for work in South Africa, ensuring their employment, whereas some migrants choose to simply go and look for a job once they arrive – like Henry plans to do. Their faith in being able to find a job is remarkable, yet understandable. Migration success stories feature daily in Malawian newspapers and reinforce the idea that money can be made in South Africa. Most young men envision going for only a few years, so they can build enough capital to return to Malawi and start their own business. As the current inflation rate in Malawi is more than 20%, you can more easily create this capital in South African rand (a much stronger currency) than in kwacha – even when you are doing the same informal menial labour. This realization makes the quest for jobs in South Africa immensely attractive and 'going to Johni' has thus become the most frequent solution to money problems.
Gender roles and expectations
Why are so many (young) men migrating to South Africa? This has to do with the social fact that men are regarded as the head of the household and thus the ones who need to bring in money. Although Malawian women are also increasingly migrating to South Africa – IOM speaks of the 'feminization' of migration in Africa – the responsibility to provide generally rests on men's shoulders.1Women have their own responsibilities: taking care of the home and children and supporting their husband in his decisions. In order to fulfil these tasks, women need money, which it is the husband's duty to provide. And, or so young men tell me, girlfriends and wives expect a lot from them – especially when they move to Johni. "He has promised me a TV and weekly money for upkeep", says Leila when we discuss Henry's migration plans. She plans to be at home with the young baby, breastfeeding, as she has no diploma, no work experience and no chance of finding a formal job. Although she does not want him to go, she finds his move to Johni more bearable because of the prospect of eating at least two decent meals a day.
Remittances and women's entrepreneurship
Although not all men do as they promise (some send too little, others send nothing at all), Malawi receives a lot of remittances. Already in 2006 it was estimated that more than 20% of Malawian households receive almost half of their non-business income from remittances.3 In 2012, this reached a total of more than US$ 16 million.4 The women I meet tell me that they use the remittances to sustain themselves and their children. In urban areas rent, food, school fees and clothes are their main expenses. If there is money left, many women invest it by doing malonda (small-scale business). Right from their verandas, they sell home-cooked doughnuts or boiled eggs. Some have a fridge sent to them from South Africa. They use it to sell freezers (frozen popsicles). Others sell small amounts of charcoal or cooking oil, which is especially profitable when they invest in buying large quantities.
All these small-scale business have small profit margins, but they ensure a (relatively) steady cash flow. They also provide women with the opportunity to make extra cash while simultaneously attending to their children and domestic chores. It is a kind of entrepreneurship geared towards survival rather than growth, yet it is an attempt to become less dependent on the often irregular remittances. Because remittances are usually small sums of money, barely enough to meet household needs, the capital women can use for their businesses is also small. Paradoxically entrepreneurship based on remittances is both emancipating and limiting at the same time.
Pregnancy as a social and financial strategy
What do the young migrating men think about the sending and spending of remittances? "The most important thing is to make sure that she is pregnant before you leave", 22 year-old Blessings tells me. Just like Henry, he is planning to head to Johni soon. "Then she won't cheat, she will just be at home and when you come back, you are sure that the child is yours." Remittances are a good 'investment' when they benefit your partner and offspring. Informal labour migration by young Malawian men is thus shaped by various strategies to secure, negotiate and maintain social ties. But it is not just the men who strategize. Yes, a pregnant wife depends on these remittances, but being pregnant with a man's child is what grants her the right to receive his remittances in the first place. And his absence enables her to fully control that money. More research is needed to learn about the lives of the women who 'stay behind', to find out more about their strategies and the ways in which they shape their lives in the context of destitution and migration.
When I run into Leila a few weeks later, I wonder whether she will also want to become an entrepreneur once Henry leaves. She is carrying her newborn baby boy, Precious. I ask her when Henry is leaving. "I don't want him to go", she says. She seems scared of what might happen. Later at home Henry visits me on my veranda. I ask him about his plans and he says he wants to leave in a few weeks. "She has nothing to worry about, I will send her a lot of money. I won't come back until I have earned enough money to build them a good house, with a big television". Only time will tell whether Leila is an entrepreneur, a happy housewife, or both next time I see her.