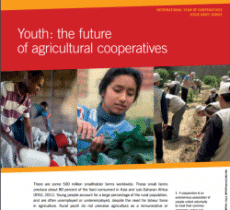 Policy highlights:
Despite high labour demand in agriculture, rural youth are often un- or underemployed. As they do not perceive agriculture as a remunerative or prestigious profession they migrate to cities to find other employment. Agricultural cooperatives have proven to be an effective mechanism for engaging and employing young people in agriculture.
Challenges specific to youth often relate to their junior status. Some existing cooperatives have membership conditions, such as land ownership, which many youth and especially young women do not have. Moreover, youth-only organizations generally lack human and financial resources, while in mixed organizations they are not well represented or entirely excluded from decision-making processes.
The empowerment of youth through agricultural cooperatives means making cooperatives youth sensitive, particularly in their representation and governance. Furthermore, cooperatives should provide mentoring guidance and advisory services to their young members to build their capacities and to overcome constraints (such as access to training, land and credit).
Cooperatives, donors, governments and the international community should: 1) formulate and implement youth-focused agricultural development projects and programmes; 2) work to raise the image of agriculture; and 3) provide specific financial support for the development of cooperatives that involve and/or engage young people.