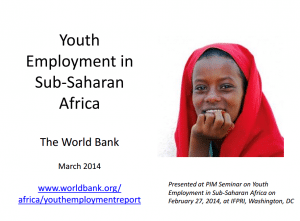 Policy highlights:
Youth unemployment results from the many obstacles young people face when trying to find productive work in agriculture, household enterprises, and the modern wage sector. Priority actions focus on human capital as well as the business environment side.
To build a strong human capital foundation three priority actions are needed: 1) address the lack of learning in basic education by reforming accountability frameworks, ensuring teachers are prepared and supported, and leveraging private providers; 2) promote early childhood development and nutrition to build a stronger foundation for skills development; 3) build socioemotional and behavioural skills.
Opportunities and constraints exist in five areas: 1) agriculture, where there is room for growth and innovation, but lack of access to land, capital, technology and skills; 2) household enterprises, where youth need support to seize opportunities, for instance, in terms of infrastructure; 3) financial inclusion, as youth need savings to start a business or buy inputs, and a place to safeguard profits; 4) modern wage sector jobs, where logistics bottlenecks, corruption and skills gaps need to be reduced; and 5) cross-cutting areas, such as safety net programmes, awareness of opportunities, second-chance education, and fertility rates.