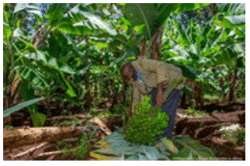 Policy highlights:
The majority of people living in poverty in rural Africa are smallholder farmers. Supporting smallholder agriculture through training, innovation and new technology has the potential to improve household income and food security, and boost rural economies.
Two interventions on the livelihoods of smallholder farmers are often implemented in Africa: 1) training interventions to facilitate the transfer of knowledge or skills to smallholder farmers; and 2) innovations and new technology interventions to introduce modern agricultural practices.
3iE research shows that: 1) training had very little effect on farmers' incomes; and 2) input innovations introducing new or improved products (e.g. sweet potatoes) led to an improvement in farmers' food security as well as income levels.
These findings have several implications for policymakers who are advised to: 1) maintain an increased focus on smallholder farming as a central aspect of the rural development process; 2) adopt a bottom-up approach in implementing interventions; 3) assign more funding to smallholder farming to effectively reduce rural poverty; and 4) implement a more rigorous evaluation of the effects of smallholder farming interventions in Africa.