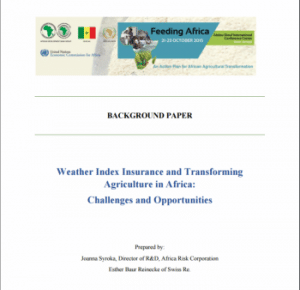 Policy highlights:
Natural disasters such as droughts and floods reduce income and economic growth. In developing countries in particular, the potential risk of natural disasters hampers agricultural growth, as farmers are constrained in their access to finance and better yielding inputs because risk-averse lenders are unwilling to invest.
Insurance would be a viable solution: It acts as a shock absorber for farmers and other actors in the agricultural value chain and enables access to credit and better inputs as well.
One recommended form of insurance is the so-called weather index-based insurance product, which based on objective weather data as key indicator for payout, instead of actual observed 'on-ground' losses. This allows for a cost efficient and objective assessment as well as quick payment.
Farmers who are protected by such insurance will have better access to finance, greater resilience to shocks, and access to higher yielding inputs that will increase incomes. In addition, these products will allow banks to operate more efficiently and service providers to extend their reach and reduce rates.