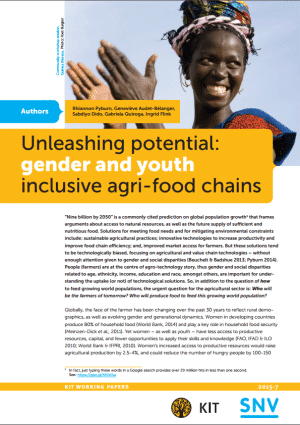 Policy highlights:
Most agricultural work is done by women and young people, but they do not benefit from their efforts. For instance, in African countries the rural wage gap between men and women varies from 15% to 60%.
Efforts to make value chains more inclusive to women and youth should focus on connecting women and young people to markets, engaging them in adding value, building their capacity to act independently, and promoting more equitable gender and generational power relations.
Interventions based on an extensive analysis of household dynamics that encourage the participation of women and youth are particularly successful.
Moreover, coaching organizations and making their tacit knowledge explicit can make them more inclusive.