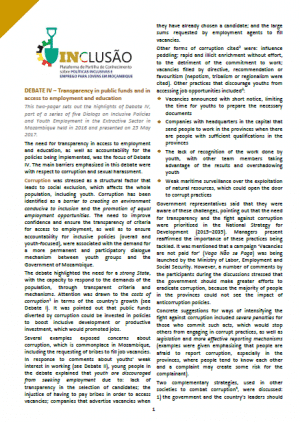 This two-pager sets out the highlights of a debate on transparency in public funds and access to employment and education, part of a series of five Dialogs on inclusive policies and youth employment in the extractive sector in Mozambique held through 2016 and presented in a national workshop on 25 May 2017.
Highlights
Corruption is one of the main barriers to creation of an environment conducive to inclusion and the promotion of equal employment opportunities. Strategies to address corruption include:
severe penalties for those who commit such acts
Appropriate legislation and more effective reporting mechanisms
Enhance transparency in anti-corruption fight by government and undertake actions that boost the (inclusive) development of the country.
Focus on strategies that discourage corrupt practices such as social justice and poverty reduction
Address policy gaps and enhance compliance with the law
The other barrier is sexual harassment, manifested in exchange of sexual favours for jobs or educational attainment (grades) which mostly affected women. Strategies to address sexual harassment include.
Promotion of activities to raise awareness about gender equality, along with clear information on penalty mechanisms.
Enhance the role of men (and boys), families, teachers and communities for the transformation of girls' self-esteem and as a motivation for them to compete for job openings, participate in training and produce quality work.