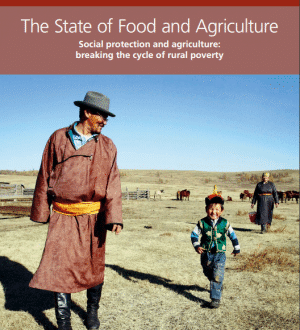 Policy highlights:
In recent decades considerable progress has been made in fighting global hunger and poverty. However, progress has been uneven among countries and regions, and especially South Asia and sub-Saharan Africa are lagging behind. Social protection measures are needed to improve this situation.
Social protection can only be effective and sustainable if there is inclusive economic growth, which, for most developing countries, implies investments in agricultural development. Providing social protection and pursuing agricultural development in an integrated way offers synergies that can increase the effectiveness of both.
Policy makers should be aware of a number of factors that determine the availability of labour, productivity and effectiveness of social protection interventions. These include household-level factors, such as age, health and gender as well as the nature of the local economy.
To effectively integrate agricultural policy and social protection a coherent national vision is vital. This includes: 1) Adjusting design and targeting of agricultural input subsidies in order to reach the poorest farmers; 2) Allocate more (micro)credits to agricultural producers; 3) Promote rural development through initiating Institutional procurement programmes (IPPs) that create a market for small family farm produce; and 4) Establish a unified targeting system to serve several programs with overlapping objectives and target populations.