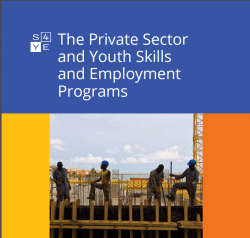 Policy highlights:
In order to solve market failures and address equity concerns, public interventions are needed to develop the skills of (unemployed) youth.
Active labour market programmes (AlMPs), designed to overcome market failures, often suffer from 'government failures' such as lack of accountability or insufficient resources. Public-private partnerships (PPPs) can help to overcome such government failures as well as ensure that the development of skills better reflects labour market needs.
To efficiently involve the private sector in youth skills programmes, programme designers and policymakers are recommended to: 1) actively engage employers in programme design and operation to ensure training curricula match with market demand; 2) incorporate soft skills, like cognitive and communication skills, in training programmes; 3) take into account the motivations and constraints facing the firms that are expected to participate; 4) include on-the-job learning as central part of training trajectories; 5) engage and support SMEs and informal firms in youth skills and employment initiatives; and 6) provide advice and technical assistance to businesses.