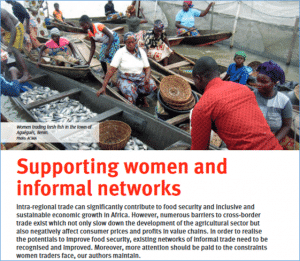 Policy highlights:
Intra-regional trade can significantly contribute to food security and inclusive and sustainable economic growth in Africa. However, numerous barriers to cross-border trade exist that slow down the development of the agricultural sector, negatively affect consumer prices and hamper profits in value chains.
In order to realize the potential to improve food security, existing networks of informal trade need to be recognized and enhanced. Specific attention should be paid to women traders, as they make up the vast majority of small-scale informal agricultural traders.
Regional economic communities in Africa do recognize the importance of these informal, inter-regional (agricultural) trade networks. They have adopted far-reaching commitments to foster intra-regional trade, but implementation at national levels is lagging behind.
Much of Africa's intra-regional trade is not recorded in statistics. Therefore, policy-makers cannot fully capture its impact on food security and economic growth.
A concerted effort is needed to define trade regimes which build on existing formal and informal trade networks. This includes full recognition of the roles of women in agricultural production and trade, and then harnessing the full scale of options to improve food security, create jobs and foster inclusive and sustainable economic growth.