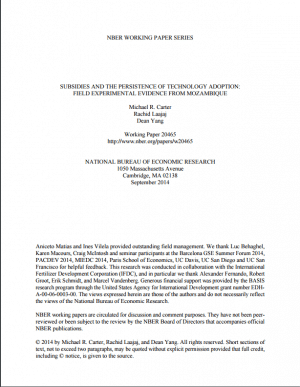 Policy highlights:
A randomized experiment to test the effect of a temporary subsidy on fertilizer and improved seeds in rural Mozambique demonstrates positive impacts on a range of indicators beyond input use, including farm output, assets and housing quality.
The temporary subsidy had a long-lasting effect. For instance, two years after the intervention, household consumption was 14.7% higher compared with the control group.
The findings suggest that temporary subsidies on modern inputs could be effective in achieving the goals of permanent agricultural subsidies. This can be explained by the perceived increase in returns on farm inputs as well as wealth effects.