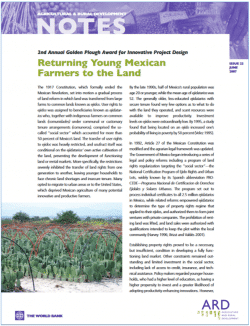 Policy highlights:
In the 1990s Mexican agricultural development stagnated due to the lack of land transfer from older to younger farmers. To revitalize the country's rural economy, the Mexican government initiated the Access to Land for Young Farmers Pilot Project, which yielded promising results.
The success of the Mexican project carries enormous potential for replication in developing countries that face similar conditions, such as high levels of migration to cities by young rural people; increasing numbers of elderly farmers with very low levels of productivity; and complex land tenure situations with the eldest in charge of the land and difficult mechanisms for transferring tenure to younger generations.
To tackle these challenges and promote land transfer to younger generations as well as their active involvement in agriculture, policy makers are advised to take an approach similar to that of the Access to Land for Young Farmers Pilot Project, adjusted to their national contexts. This approach includes: 1) establishment of a beneficiary-driven, efficient land transaction model; 2) supporting access of young rural entrepreneurs to land, other productive assets, training, and technical assistance; 3) facilitating the access of senior landholders to social welfare schemes.