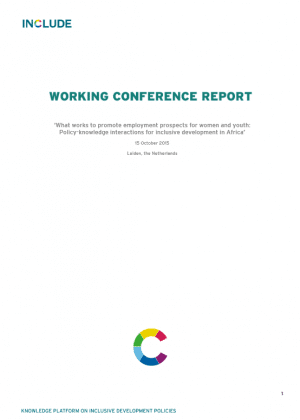 On 15 October, more than 80 participants from a wide range of countries gathered in Leiden for the INCLUDE working conference on 'What works to promote employment prospects for women and youth: Policy-knowledge interactions for inclusive development in Africa'. The conference showcased existing knowledge, which was further enriched with new reports and insights. The conference also strengthened exchange between Dutch and African scientists, policy-makers and practitioners on employment prospects for women and youth in Africa – a theme that is at the heart of INCLUDE's knowledge agenda.
The findings of the conference can be summarized in the following seven principles relating to policy analysis and decision-making, which also guide the INCLUDE strategy:
Policy analysis should recognize the heterogeneity of target groups, and interventions should, therefore, be tailor-made.
Employment policies need to be comprehensive and deal with institutions in order to empower women in livelihood and employment opportunities.
Youth policies should aim at building skills to improve employability; at present youth are entering the labour market without the requisite skills and knowledge.
Transformation should be aimed at both increasing productivity within sectors and promoting transitions across sectors.
Policies should reap the demographic dividend and reduce the demographic curse.
Policy-makers should recognize that most current and foreseeable future employment in Sub-Saharan Africa is in the informal sector and that rural unemployment is especially high.
Governments must ensure the implementation of employment policies and involve stakeholders in this process.
The members and the secretariat of INCLUDE are actively supporting local initiatives in Africa aimed at knowledge sharing on inclusive development between stakeholders and researchers.