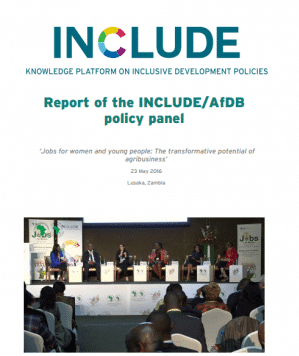 From 23-25 May, INCLUDE held its bi-annual working conference in Lusaka, Zambia. On 23 May, INCLUDE co-hosted a widely appreciated panel discussion on 'Jobs for women and young people – the transformative potential of agribusiness' at the Annual Meetings of the African Development Bank (AfDB). This report reflects on the presentations and debate during the INCLUDE-AfDB panel discussion.
Highlights
The challenges that hinder agribusiness development and agricultural transformation in Africa are widely acknowledged and include lack of access to appropriate technologies, lack of access to finance, and constraints on securing access to, ownership of and use of land, especially by women and youth.
Gender inequality is one of the key challenges to exploiting the potential of agribusiness in Africa. This is evident in the unequal access to productive assets, such as land, especially by women. A gender responsiveness agenda is important to the attainment of human development goals, reduction of inequality and development of agribusiness.
Because youth are heterogeneous and do not want to be merely described as 'youth', strategies targeting the diverse interests of youth may be useful to enable them to exploit their full potential in agribusiness and other economic activities.
To make agribusiness a viable and attractive venture, especially for youth, interventions aimed at changing mind-sets through training and support have enhanced young people's participation in agribusiness and promoted productive employment.
Collaboration between different actors in the agribusiness value chain at national, regional and local levels is important to address constraints in the sector and share ideas and successful experiences to create productive jobs.
To influence policy, researchers should understand the policy context, generate rigorous evidence, establish a network of policy actors to engage with, and come up with appropriate avenues for dialogue with policy actors. Interest and willingness on the part of policymakers to address youth employment challenges through agribusiness is crucial to successful policy formulation and implementation.
Interventions for food security and job creation through agribusiness should focus on agricultural value chains emerging from changes in staple foods and climate variability.
Productive employment has been enhanced by agribusiness interventions on: value addition and linking farmers to markets; promoting and supporting the use of scientific research in solving challenges that farmers and other players experience along the entire agribusiness value chain; and developing innovative approaches to financing agribusiness activities to enable those who lack finances to participate in agribusiness value chains.