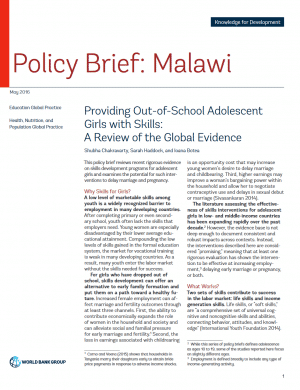 Policy highlights:
Skills development for adolescent girls can eliminate employment obstacles. This, in turn, can reduce social and familial pressure for early marriage and childbearing.
Documented impacts on sexual and reproductive health outcomes are still too limited and mixed to draw strong conclusions. Programmes that focus on empowering, informing and building self-esteem to build life skills yield promising results.
This study found that programmes that focus on technical and business skills alone increase non-farm employment, but do not reduce fertility rates or contraceptive use.
The strongest evidence is in support of holistic community-based programmes that combine life skills and technical skills. However, more research and a clear theoretical framework are needed to fully understand the relationships between skills, employment, and early marriage and pregnancy of adolescent girls.