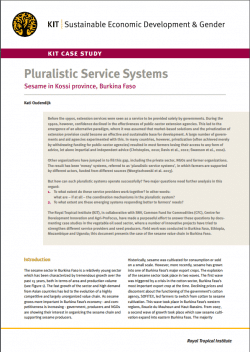 Policy highlights:
Burkina Faso's sesame sector is expanding rapidly, especially due to high demand from Asia. Weak ties between producer and traders, the increasing presence of Asian buyers, limited use of agricultural inputs like fertilizers and shortage of seedlings create a high demand for extension services, such as skill training and technical assistance.
There are three parties providing extension services: the provincial government body for agriculture (DRAHRH), the NGO OCADES, and the Sesame Producers Union .
A comprehensive coordinated approach across the sesame chain is necessary to ensure the inclusion of vulnerable and unorganized farmers.
Recommendations for improvement include: Clearer communication of benefits of training and investment to farmers; expansion of collective marketing of sesame; establishing direct linkages with exporters to secure stable prices; more efficient use of existing knowledge and capacity in setting up new projects; re-evaluation of the problematic role of the state; and the development of a long-term vision for the sesame sector.