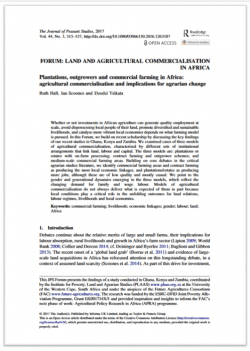 Policy highlights:
Agriculture can provide quality employment, ensure local people are not dispossessed of land, promote diversified and sustainable livelihoods, and catalyze more vibrant local economies. However, not all agriculture investments bring positive change. This paper discusses three models of agriculture investment based on nine case studies in three countries (Ghana, Kenya and Zambia).
A description of the three models follows. 1) Plantations and estates, which combine permanent and casual labour, require a lot of land (often dispossessing others in the process) and have value chains that are embedded in global markets. 2) Commercial farming areas, which are clusters of medium-scale commercial farmers. They accumulate land through rent or sale and are often specialized in a specific product. 3) Out-growing schemes (the development of processing facilities for groups of farmers) and contract farming, which facilitate the incorporation of smallholder farms into commercial value chains.
The findings across the project were mixed, but show that commercial farming areas and contract farming are most likely to become embedded in and support local economies, while plantations and estates offer more jobs. These jobs are, however, of low quality and casual. It was found that the outcomes of a farm are more dependent on the model used and contextual factors than purely on the scale of the farm.
Throughout the study, gender and generational dynamics emerge as vital to agricultural outcomes. Women in commercial farms, for example, are often excluded from operations when the farms become more established, while children (mainly sons) are required to run the farm's operations and leave other activities like employment or education. Changing demands for family and wage labour should be taken into account in agriculture investments.