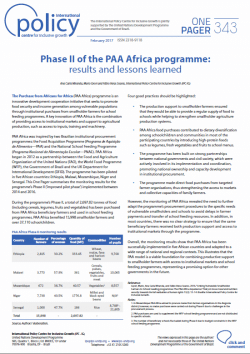 Policy highlights:
For smallholder and family farmers, it is difficult to access structured markets to sell produce. This is especially relevant for food crops. Increased market access leads to improvements in quality, productivity, food security and poverty reduction.
The Food Acquisition Programme (PAA) Africa has been implemented in Ethiopia, Malawi, Mozambique, Niger and Senegal. It creates a structured demand for produce from smallholder farmers, which is used for school feeding programmes. In addition, the programme supported farmers in the production process with inputs, training and machinery.
The project was successful for four reasons: 1) production support improved the production process, 2) fresh produce diversified school feeding programmes, 3) partnerships increased civil society ownership and institutional capabilities, and 4) collective capacity and access to markets was increased for family farmers.
The programme setup is based on the success of the PAA in Brazil. The most essential innovation made to the programme in Africa was the provision of support in the production process, which turned out to be an advantage. Click here for more information on the PAA Brazil.