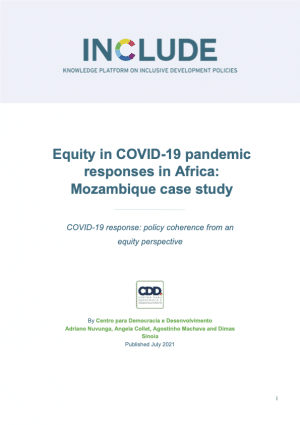 The socio-economic shocks caused by the COVID-19 pandemic have brought the debate on income distribution/redistribution and social protection to the centre of the public agenda, as governments around the world recognize the need for strategies to protect the most economically vulnerable in times of crisis, be it a pandemic, natural disaster or other crisis.
In Mozambique, this topic is especially relevant because of the cyclical and structural context, which is characterized by multiple crises, including: poverty, food insecurity and chronic malnutrition, reduced ability to raise foreign exchange; lack of confidence on the part of development cooperation partners, the unsustainable level of external public debt,  and military instability in the central region of the country and the insurgency (including violent extremists) in the province of Cabo Delgado. These factors weaken the country's ability to face the economic crisis caused by the COVID-19 pandemic, which has led to the partial paralysis of many economic activities, leading to the closure of companies, increased unemployment, and increased cost of living.
This report analyses Mozambique's response to pandemic, focusing on the importance of thinking beyond emergency cash transfers and in-kind benefits and developing more holistic gender and human rights sensitive policies that address the challenges of poor access to health, transportation, and housing, as well as other integrated social protection policies, which are needed to respond effectively to the multiple effects of the COVID-19 pandemic, as well as future crises.