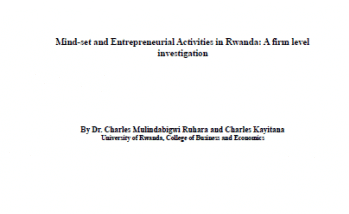 The African Policy Dialogue on entrepreneurship development in Rwanda had published a research paper on the mindset and entrepreneurial activities in Rwanda at a firm level.  The key messages and recommendations are shown below.
Key messages
Entrepreneurs with an entrepreneurial mind set perform better in terms of creativity and risk taking propensity which are vital for business success.
An entrepreneurial mind set is an important factor in the performance and sustainability of businesses in Rwanda.
Recommendation
Establish entrepreneurial education activities to nurture and support firm's success. This is important in re-learning, self motivation, risk taking, and creativity.