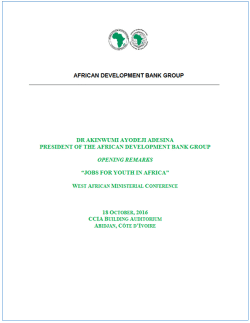 Policy highlights:
Youth unemployment is a serious problem in Africa: an estimated 33% of the youth are in wage employment, while the rest are underemployed or in vulnerable employment. Unless employment opportunities are created, Africa's rapidly growing youth population will cause serious social, economic, political and security challenges.
As many parts of the world are witnessing a rapidly aging population, Africa could become the newest centre for youth entrepreneurship globally. In order to unlock this potential, however, policy changes are necessary.
For the jobs of the future new skills are needed, especially in the sciences, engineering, mathematics and computer sciences. Yet, African universities are not producing enough people in these fields: About 70% of enrolments are in social science fields, with less than 2% in engineering.
Policymakers are advised to: 1) put in place incentives to produce more graduates with skills in relevant fields; 2) treat agriculture as a business, not a way of life, as this sector has great potential for job creation; and 3) create conducive environments for the businesses of young people to thrive (e.g. by removing tax barriers and providing easier access to finance).