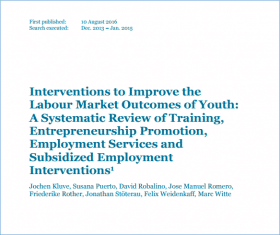 Policy highlights:
Over 73 million youth are currently unemployed and many more are affected by vulnerable employment. Hence, if policy makers manage to successfully integrate youth in the labour market, they would form an enormous contribution to economic development.
This systematic review synthesizes empirical evidence on labour market outcomes of youth employment interventions worldwide, including 113 reports, which represented 107 interventions spanning 31 countries. The various interventions comprised skills training, entrepreneurship promotion, employment services, and subsidized employment.
This research yielded a number of findings particularly relevant for programme designers and policy makers: 1) targeting youth in low- and middle-income countries has larger effect than in high-income countries; 2) multi-pronged measures are needed to effectively tackle the many barriers to success that youth are facing in the labour market; 3) skills training and entrepreneurship interventions generate the greatest impact; 4) specifically targeting disadvantaged youth generates larger impact; and 5) programme design tends to drive results more strongly than the type of intervention: i.e. participant profiling, monitored programme participation, and incentives of participants and service providers are key determinants of success.