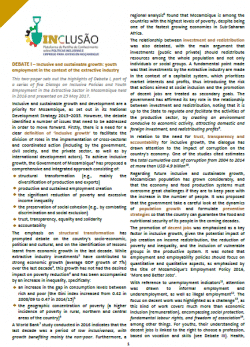 This two-pager provides highlights of a debate on inclusive and sustainable growth, part of a series of five dialogs on inclusive policies and youth employment in the extractive sector in Mozambique held through 2016 and presented in a national workshop on 25 May 2017. The key highlights from the debate are as follows.
Issues that need to be addressed to advance inclusive development agenda in Mozambique
Clearly define 'inclusive growth' to facilitate the division of roles in the implementation of cross-sectoral and coordinated action between different actors.
Creation of productive employment has potential to address inequality, reduce poverty and exclusion of vulnerable groups.
Disaggregated quantitative data on the percentage of jobs generated for specific groups that have historically had less access to opportunities is needed.
Strategies that can be adopted to work towards inclusive development
Emphasise on structural transformation of the country's socio-economic, political conditions.
Redistribute resources and investments (public and private) equitably among the citizens.
Formulate strategies to address population dynamics in order to guarantee food and nutritional security of its people in the coming decades.
Focus on diversification of domestic production, investments and ancillary jobs arising from the development of other activities in the extractive industry's value chain
Promote a transparent debate on government accounts covering the criteria for generating and applying government revenue and taxes, and tax incentives for extractive industry companies.
Enhance trust, transparency, and accountability to reduce the impact of corruption on the country's economy.
Appropriate regulation and facilitation of the activities of the productive sector, by creating a conducive environment for economic activity, attracting domestic and foreign investment, and redistributing profits
Employment creation and employability policies should focus on quantitative and qualitative aspects, as emphasized by the title of Mozambique's Employment Policy 2016, 'More and Better Jobs'.