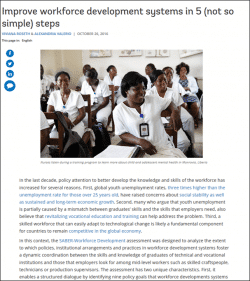 Policy highlights:
Growing global youth unemployment is cause for great concern. It is argued that this growth can partially be attributed to a mismatch between graduates' skills and the skills that employers need. Consequently, policy attention on improving the knowledge and skills of the workforce has increased.
The SABER-Workforce Development Assessment, which has been implemented in 35 countries, analyses the extent to which policies help to adequately match graduates' skills with employers' demands.
The assessment identified five policy areas in which technical assistance, cross-country learning, and policy intervention are needed; it recommends the following: 1) workforce development strategies should be accompanied by political will, sufficient funding, and solid monitoring at all relevant levels; 2) employers should be actively engaged in policymaking and training design (which requires incentives that institutionalize the relationship with employers); 3) investments should be made in modern programmes to enhance the appeal of vocational education and training for youth; 4) quality standards and performance measurements should be established, because such information motivates prospective students and employers to participate; and 5) efforts should be made to establish national systems for data collection and analysis to improve current practices and inform policymakers.