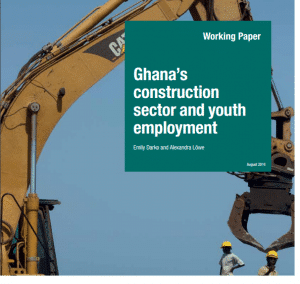 Policy highlights:
Ghana's construction sector has greatly contributed to the country's economic growth, but is facing a large skills gap. The large number of unemployed Ghanaian youth cannot be hired due to lack of education.
In addition to insufficient education, other factors pose obstacles to job creation in Ghana's construction sector: contracts generally go to large (international) enterprises, with limited requirements in terms of job creation and no incentive to train young people, and the sector suffers from a negative image due to its poor health and safety record.
It is recommended that organizations aiming to promote youth employment in the construction sector: 1) build relationships with the government and local firms to promote investment in domestic construction firms, which are more likely to employ local artisans; 2) cooperate with policymakers to ensure the certification of young people's education qualifications and to facilitate their access to finance; 3) design training programmes that take into account gender inequality and safety issues; and 4) work with other parties (governments as well as the private sector) to provide paid apprenticeships.